This month,
the Town of Richmond Hill won an important court case
involving planning and the OMB. It is also a step forward for many Ontario municipalities in the Greater Toronto Area (GTA).
In 2013, the Town created a park dedication bylaw permitted under
section 42 of the Planning Act
, which requires developers and builders to either set aside land or pay cash-in-lieu for parks (this is known as . The maximum amount permitted in the Act is up to either 5% of the land value, or 1 hectare for every 300 units. The Town opted for the latter in their bylaw, and added a provision for a lesser amount: 1 hectare for every 730 new residents.
The development industry sees these amounts as unreasonable
, arguing that it makes high-rise project uneconomic. The Town was taken to the Ontario Municipal Board (OMB) by a condo developer based on this argument in 2015. The OMB sided with the developer and capped the park dedication rate at 25%. Richmond Hill appealed this decision in an Ontario court and won, with
the Divisional Court finding that the OMB exceeded its mandate
.
This is a significant victory in a local, regional, and provincial context.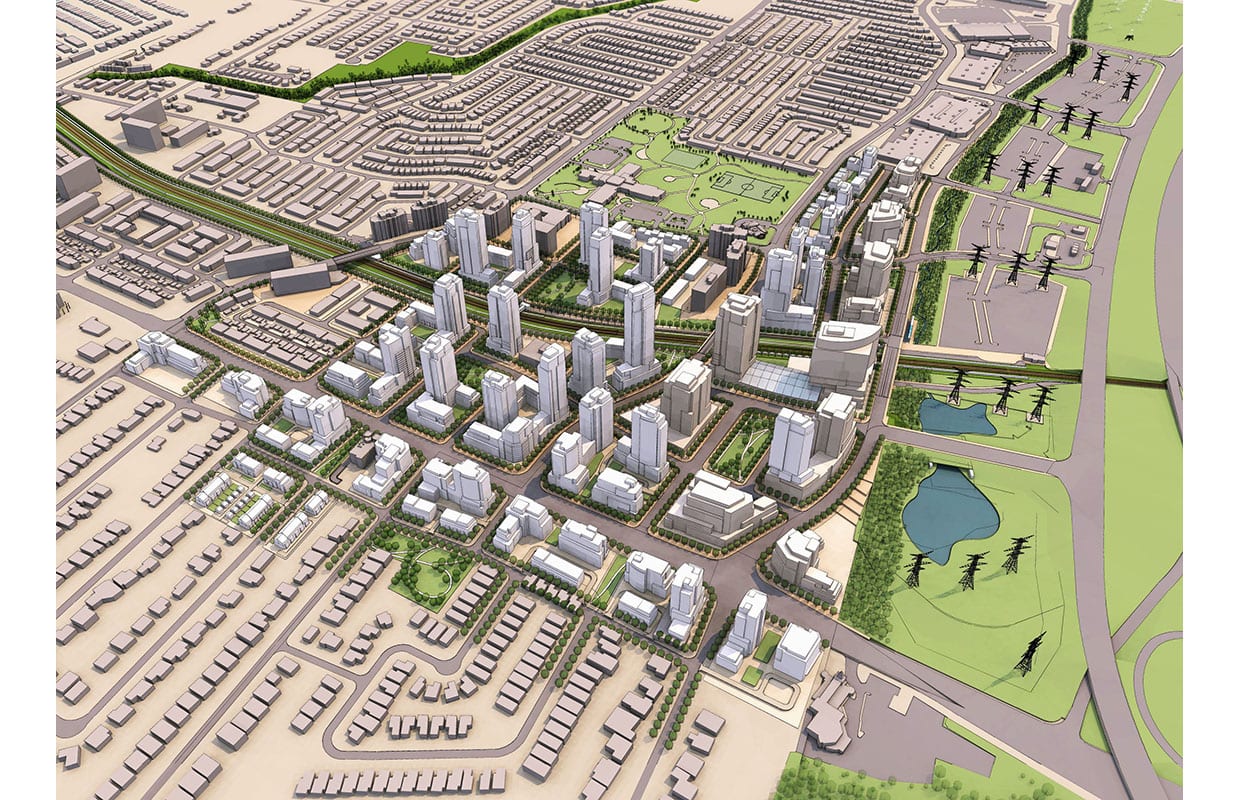 The planned vision for Richmond Hill Centre.
First, the obvious provincial context. The parkland dedication rate was set by the Town as a planning direction. A parkland rate was one component set to meet the planned vision that the municipality wanted to achieve in this certain area. When the OMB set aside the park dedication rate established by Richmond Hill and set its own, the court found that this was an exceedance of the OMB's mandate. Municipalities were
given "broad authority...to enable the municipality to govern its affairs as it considers appropriate" under section 8 of the Municipal Act
. That section also emphasizes that authority applies under the Municipal Act or any other act. The court's ruling reaffirms that municipal authority, which is a sigh of relief and perhaps foundational case law for other municipalities that feel that OMB decisions have unjustly fettered in their planning authority.
Second, the regional context. It also found that the OMB's decision was made without citing any evidence for its cap. While there had been past decisions by Richmond Hill to cap park dedication rates at 25%, the court spelled out the problem with this: "the reasons [for the OMB decision] also do not address whether the Town's past practice was the appropriate practice for the future." Basically, relying on a municipality's status quo and previous practice under different development pressures is a garbage rationale. Again, as stated by the court, there is "no dispute that development issues for the Town have changed significantly in the last twenty-five years."
This is very applicable to any municipality within the Greenbelt, and it applies to matters beyond parkland. The Greenbelt and other provincial policies aimed at intensification, coupled with significant population and economic growth, has significantly changed the development landscape in the GTA. With these intensified pressures, relying on past planning practices is absurd and inadequate, and municipalities need unfettered bold action to address the future challenges ahead of them.
Richmond Hill Centre is one of a number of urban growth
centres designated under the provincial growth plan.
Third, the local context. Yonge Street and Highway 7 in Richmond Hill have seen significant interest for high-rise development as of late, which is inevitably driven by planned higher-order transit and provincial intensification policy. Also, the increasing saturation of land suited for high-rises in Toronto has developers looking elsewhere, and Richmond Hill is right on the doorstep with convenient GO and TTC access. This makes Richmond Hill a significant target, and steps need to be taken to protect for parkland amidst significant high-rise development. If this OMB decision continues to stand, this will tie the Town's hands, and force it to come up with costly solutions to achieve the original desired amount of parkland.
For an example of what I'm talking about, take a look at downtown Toronto. There are significant parkland-deficient areas in the downtown, and while Toronto has been banking section 42 funds for some time, this approach has few appropriate areas to establish new parkland. Now an ambitious proposal has been put forward: the Rail Deck Park, a park established on top of a structure spanning the rail corridor west of Union Station.
The proposed Rail Deck Park.
Very initial estimates peg this park at $1 billion
, or $117.65 million per hectare. A steep price considering that
MCAP estimates market value for residential high-rise development
in the downtown west area is about $53-60 per square foot. You apply that to
a nearby proposed condo development at 15-35 Mercer Street
, with a gross residential floor area of 36,370 square metres (391,483 square feet) on a 0.2371 hectare plot, and you're looking at land that conservatively costs somewhere around $87.5 to $99 million per hectare (
maths
). It seems like it is in the same ballpark, but again, this is a per hectare price; the difference adds up to $157-256 million in savings for the same amount of land (8.5 hectares) at market value. That is just capital cost, and does not include staff and consultant fees, unanticipated cost overruns and compensations, or maintenance of the structure. It also does not valuate the social impacts of construction on the community or commuters, nor the amount of time and effort required to land these deals, or the impacts of living in a park-deficient ward until this point.
If the Town of Richmond Hill (and other GTA municipalities) can avoid some of these problems and extra cost merely by exercising their planning authority now, and establishing land as they go, it can avoid the trials downtown Toronto is experiencing now. And that results in significant budgetary savings, along with the ultimate goal: well planned communities with the amenities that residents require.
How the OMB thinks it can fetter and mess all that up? I have no idea.